Caught Drooling over an 80's Porsche 911 / 930 Turbo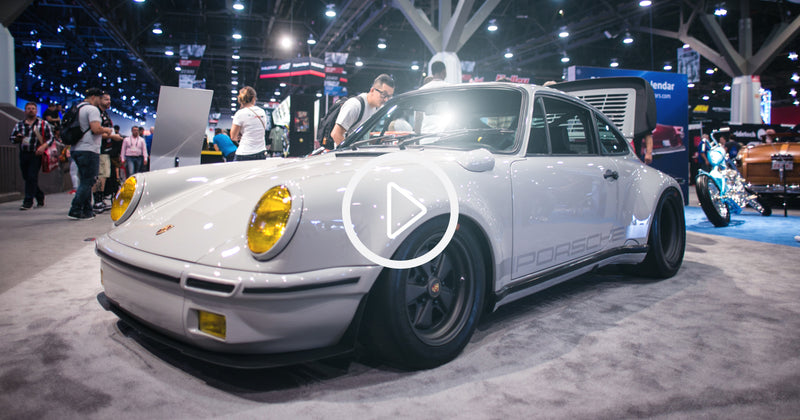 Rob Ida / Ida Concepts Porsche 911 / 930 Turbo
Each year I travel to the SEMA Show in Las Vegas and this year was no different.  Some years I make a full week of it, and other years its an in and out affair. This year happened to be one of those quick trip years, so I set out to walk the show as quickly as I possibly could in two days.  With time at a premium, my goal was to find the show "killers", at least in my mind, and spend a bit more time soaking up all the special details of the build. Being very partial to the Porsche badged cars, it wasn't hard to get sucked into the many details of Rob Ida's Porsche 911 / 930 Turbo. So much in fact that I made it a point to come back to it on both days of my visit.
I was lucky enough to catch Rob at his car the first day I saw it, and it was a pleasure to chat with him for a few moments about the build.  Rob admitted that the car started as just a daily driver for him and originally had no intention of building it to the level you see in the photos below.  A few upgrades here and there opened a flood gate of changes to the car.
The most notable change to the car would be the custom front bumper.  Rob knew that the OEM bumpers needed to be trimmed up a bit while retaining the classic styling.  Details on the bumper include recessed driving lights and oil cooler vents, and the more subtle detail of the hood lines continuing down to the lower front valence. Whats great about all of these changes is that its subtleties would be left unnoticed by many who glance upon it.
Another big goal of Robs was to get the "stance" just right which proved much more difficult than one would expect.  Rob admitted that the search for the perfect tire took him to the other side of the ocean to source a super rare set of 315/40/16 Pirelli P7 Corsa Classics. The rubber fitted to 16×11 rear and 15×8 front classic Fuchs design wheels, set the tone for the aggressive look and yet functional ride.
We'd like to thank Rob for the few moments to chat at the show, and I hope you enjoy the little clip I put together below along with the small gallery.
-Russ
SAVE 10% ON YOUR FIRST ORDER // FREE SHIPPING ON DOMESTIC ORDERS OVER $60.00
---