"Stick with it" Anthony Ashback's 1981 Honda CB750 Cafe Racer Build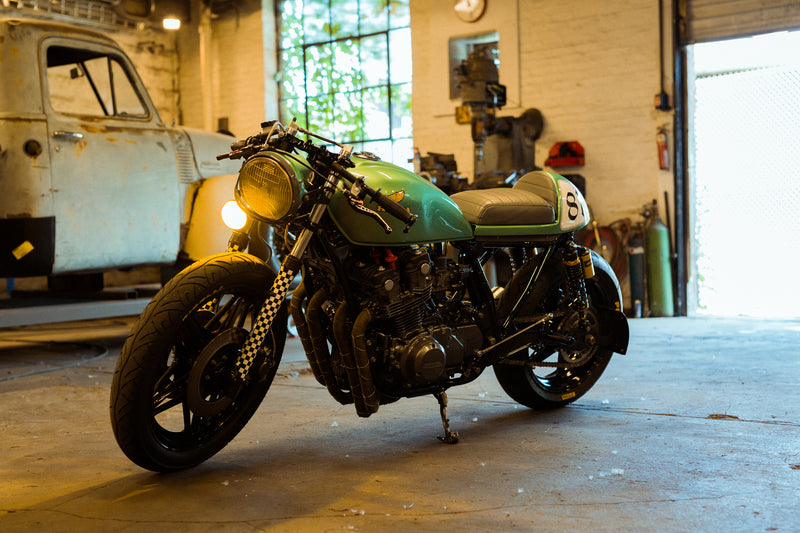 "STICK WITH IT" 
Photos : Philip Fusco / IG @phillyphilz
Words : Mike Meszaros / IG @notsoaudimike
It feels weird to be back behind the keyboard after a long time off, but sticking with it is something we all have trouble doing in this modern-day and age. Anthony Ashback is an example of what happens when you stick to your craft, and instead of throwing your hands up and walking away he decided to stay true to his project and perfect his 1981 Honda CB750. Take a long hard look for this is what dedication can achieve.

Anthony explained he had changed the bike up many times. Unlike the rest of us, he had to keep the flavor fresh. The latest incarnation of his seven-year build now rocks an inverted front end to give it a more up to date look. The color of the bike is a cult Honda hue called Midori Green. Personally, this is my favorite part of the build as being a closet Honda head. I've always wanted a Midori Green Civic hatch….but I digress. Anthony wanted to make sure the build remained close to his passion for riding aggressively and taking turns because riding is his passion and runs deep in his family; from his wife to little girl they all enjoy the two-wheeled passion.

The 81' CBR750 sports, of course, a 750 CC engine, and to help slow it down after hitting the twisties is a Ducati 996 Brembo master cylinder. It also looks the business! The bike also sports a CBR600 rear wheel conversion. The build retained the stock swingarm and has a rear coil-over kit that has been rebuilt to help perfect the look and stance of the bike. This motorcycle was built to suit the taste of one person, Anthony.