Black Herts Custom Cycles CB550 Build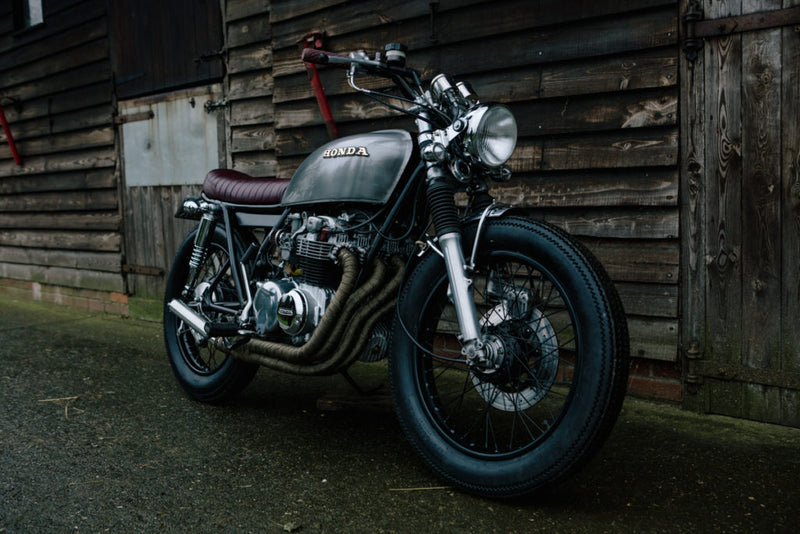 Black Herts Custom Cycle CB550 Build
Have you ever been bouncing around Instagram late at night and you just stumble on something that keeps you up for a few hours more ?  That's exactly what happened when I stumbled on Black Herts Custom Cycle newly completed CB550 build.
Being that I myself am about to embark on a build of a similarly styled CB360, I had to stop and look around a bit…haha.  You know when you pinch the screen on IG and try to dig into those finer details…Its a struggle.  I've had in my possession a very good condition CB360 that I bought just about a year ago, and its sat in the corner of my shop getting little use aside from being an occasional photography prop for a new tee or hat design. I've been terribly torn on what direction I wanted to go with the bike due to the fact that free time is a premium here at the shop, I wanted to make it worth the while.  The problem is the bike is just too nice to chop up and I think this one would best be served by just some clean up and subtle mods.  This is what caught my eye with Black Herts bike.
Ben over at BHCC informed me that this bike, a 1977 Honda Cb550 Four was a barn find and it was in terrible condition and it needed a total refresh.  After a total engine out refresh on the frame and subtle details around the bike, the final product is very minimal but extremely pleasing to the eye.  I personally love the raw metal tank on burgundy leather seat and grips.
Black Herts Custom Cycle is located in Hertfordshire, UK and can be found on Instagram at @blackhertscustomcycles be sure to give them a follow and look out for the newest builds.
Enjoy the images sent over from BHCC and I hope it inspires your build like it did me.
-Russ
---
---